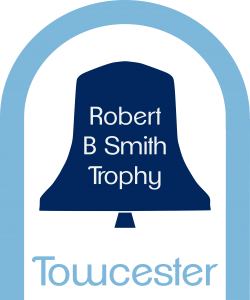 The 2019 Competition will be held at S Lawrence, Towcester, NN12 6YY on 28th September, draw to take place at 11:00 AM. Judges will be Paul and Kate Flavell.
Teams representing Sheffield, Nottingham University, Melbourne, Leicester, Towcester, Cambridge and Welsh Colleges will be taking part.
See this map for car parking locations in Towcester.
10:00 Breakfast available in Chantry
11:00 Draw in church
11:30 Competition starts. Bar open in Vicarage Gardens
Lunch – BBQ in Vicarage Gardens
16:00 (approx) Results in church
There will also be a fete in the Vicarage during the day for visitors to go to, along with information about the Bell Maintenance project Towceser are going for.
The test piece will be 216 Little Bob Maximus.
23456   W  M  B  H
23456   s  –  x  2*
x=18. 2*=sb.
1234567890ET
1648203T5E79
108T6E492735
1ET907856342
1795E3T20486
13257496E8T0 s
164538207T9E –
18506T4E3927
1ET907856243 x
1795E2T30486
12537496E8T0
143628507T9E
18604T3E2957
1T0E89674532
19E7T5028364
157293E4T608
1342567890ET s
1628304T5E79
108T6E293745
1ET907856423
1795E4T30286
14537296E8T0
123648507T9E
18602T3E4957
1T0E89672534
19E7T5048362
157493E2T608
1234567890ET –